Many moons ago, the lovely Beth over at
Plum and June
asked who wanted to join in on a blog hop! (Answer: ME!!!!)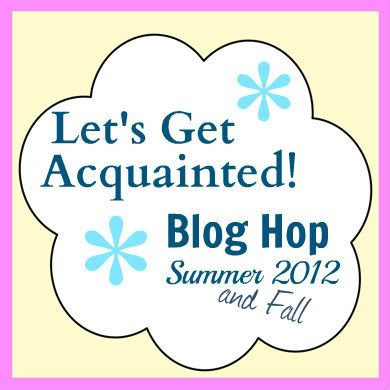 This is, I believe, my first ever hop (at least one that wasn't a giveaway hop)!
Okay, so a little about me in general before I answer the craft related questions.
I'm a bellydancer in my spare time. I once actually made some costumery as part of an Eternal Maker challenge. Yes, I actually danced in it. No, I did not win the challenge. (But I am hoping the photo of me IN the costumery wasn't what threw me down.)
I live in Atlanta with an inconveniently snuggly, somewhat evil Tuxedo cat who tests all the quilts for me, a smooshy cocker spaniel who tries to boot the cat off the quilt so he can prove his quilt testing skills with his little victory dance (what we lovingly refer to as rubbing his stink on it), and an awesome fiance who cooks almost everything I eat (I have some really weird food allergies...onions, anyone?) who I refer to here as The Pirate. Oh, I'm a teacher. And a klutz. And a quilt along whore. (Seriously, peoples, I just finished the Soda Pop QAL over the summer and the last installment of the My Precious QAL. I'm currently doing the Sew Intertwined QAL, the How Far Will You Go QAL, and the Hexy MF QAL. I really want to start the Scrap Vomit QAL but I'm waiting til at least one of the others are done. That said, each project has surprised me with how much I'm loving each quilt, for teaching me new skills or playing with new fabrics...Currently using Hope Valley on two of the QALs.)
Some of my quilty projects:
How long have you been quilting?
I made my first quilt in college. It started off rather inauspiciously with stitches. I had discovered all these silk remnants and was going to crazy quilt style a quilt. Long story short...handwashing, trips to a washing line, sliding glass door, cat that wasn't allowed outside, door slammed on finger. Oh, and I was home alone when I did it and my dad's secretary had to come get me to take me as I couldn't drive my non-powersteering car without two hands. Sigh. I said I was a klutz. That quilt idea got tabled, and I made another one. I did the top, and my mom actually tied it. I found a piece of that quilt in my stash. Um, metallic paisley? Really?
I didn't really start quilting again til the summer of 2011, when I started this blog. It's been non stop since then.
Favorite Quilting Tips
Measure at least twice before you cut. CHANGE THE ROTARY BLADE REGULARLY. Then, PLEASE remember it is newly sharp and don't cut yourself. Clover binding clippies (they're red and clear) work fabulously for binding and don't scratch you up like some of the metal ones do.
Wish list fabric
Gah. Too long. Anything by Tula Pink (I'm mildly obsessed). Heather Ross (I have bits hoarded all over my sewing room). I'm also a big fan of Lizzy House and Laurie Wishbrun. Lotta's cool, too. Honestly, other than those designers, I'm picking stuff that just appeals to me.
Favorite Craft Book
I got it for my birthday and am exercising much self control in not starting a project from it yet.
Hexa-Go-Go
by Tacha Bruecher.
Favorite Book
My all time two favorites are
One Hundred Years of Solitude
by Gabriel Garcia Marquez and
The Book Thief
by Markus Zusak.
Favorite Children's Book
Willy Wonka's Chocolate Factory
Favorite quilting tool
My rotary cutter
Favorite Music to listen to while quilting
I actually tend to sew by the TV. I like marathons of shows, especially Psych, and horrible SyFy original movies.
Binding-by hand or machine?
By hand. But I'm sloooooooow.
If I'd only known
How much of my space was going to get eaten up by my fabric hoard. I'd have started with better storage.
My Tutorial: A Polaroid Snack Mat!
It's not really earth shattering. I've liked the Polaroid blocks I've seen up and about the internet. (I know there was a swap of them a while back.) I don't have a plan to make a quilt of them right now, but I have some cool charm squares from a fussy cut charm swap. I got my batch from Allegory over at
Sew Allegorical
. (She's rad and local to me!)
I wanted to use a couple of them to make something I could use every day.
Coaster/snack mat it is!
I took the
tutorial on making the tiny versions
and amped it up for a bigger size.
For each coaster, I used a 5 in charm square, 2 strips of white Kona measuring 2 in by 5 in, 1 strip of white Kona measuring 2 in by 8 in, and 1 strip of Kona measuring 3 in by 8 in. I also used a piece of batting, approximately 9 in by 10 in. For the back, I used some Kona charcoal, a piece about 8.5 by 7 in.
First sew the side strips on.
Then sew the top and bottom strips on.
I attached the batting by sewing around the "picture" part of the Polaroid.
Then I trimmed up the Polaroid block (with batting attached) to 8.5 in high and 7 in wide.
I sewed the back on (by placing right sides together and sewing around it, leaving a 2 in opening for turning) with a 1/2 in seam. Hint: Don't do what I did and leave the opening on a corner. Your corners will look better if you leave the 2 in opening in the top or the bottom middle instead.
Clip the corners, turn inside out, and press.
Then sew a 1/8" topstitch and you're done!
If you wanted to be super fab, you could embroider a message on the Polaroid before you sew the front to the batting!
It's making my afterschool snack that much more fun!
Thanks for visiting my blog! I hope you'll come back!
Please visit the other folk hosting this week:
Aug 28
Lucy from
Charm About You
Aug 30
Elaine from
Dashasel Sews
Jess from
The Elven Garden
(Jess is co-hosting a phenomenal QAL right now, and it's not too late to join in!)