I have a lot of works in progress...but I feel like I'm moving slow today.
I'm heading in to start cleaning my classroom and making up my shopping list for supplies.
(I may or may not be an office supply slut.)
I finished the Koolaid quilt. It's going to go into storage until we start mailing out Xmas presents. It feels good to have something done, especially for Pirate's family.
It also just screams summer to me.
I'm linking up to this: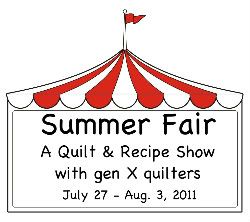 I got mail! My Sewn Spaces swap item came yesterday from patriciab.
Sooo in love!
She also included yarn and scissors! Lusciously plummy yarn!
I cannot tell you enough how beautiful her work is. Now I have something to aspire to...and some inspiration to finish my Make Mine Modern items today, post classroom swabbing.
Have a lovely Friday, y'all!